Les Miserabelves gets great reviews!
"'Les Miserabelves' a parody of the famous musical which combines Victor Hugo's story with the classic Rudolph tale is particularly brilliant."
— Melissa Hall, Stage Write Indy
"a mind-boggling mash-up"
— Hope Baugh, Nuvo
"intricately clever"
— Jay Harvey, Jay Harvey Upstage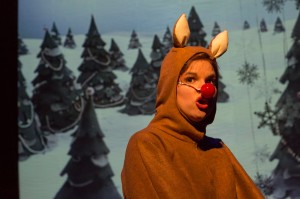 "One Rein Deer!'  Ryan Siobhan is Rudolph, in "Les Miserabelves", at the Phoenix Theatre, Indianapolis.  Directed by Bryan Fonseca.  Photo by Zach Rosing.