"Mark Harvey Levine is certainly a heartening find…his plays are smart, humane, funny, and indicate a terrific sense of theatrical craft."
Martin Denton, NYTheatre.com
"Levine has an unmerciful sense of humor, fueled through a fertile imagination"
Travis Michael Holder, Entertainment Today
"What can one say about Mark Harvey Levine? Best 10-minutes playwright in history? I can't claim to have read all the 10-minutes plays ever written, but I can say that I have literally read thousands of them and I have never seen another playwright that has the volume of work while still maintaining a high level of quality."
Andy Batt (Artistic Director, Madlab Theatre), Interview, ColumbusUnderground.com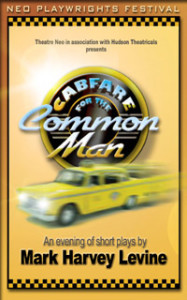 "Didn't See That Coming / Cabfare For The Common Man" Full Evenings of Plays
---
"Didn't See That Coming," is remarkable for the diversity and originality of its subject matter, notable for its sense of humor and laudable for its generally humanist stance. The pieces are as consistently dissimilar as they are consistently entertaining, which makes the evening that much more of a wonder, incorporating everything from straight-on madcap to aw-shucks sweetness… I'm betting you'll take at least a little something — on top of the laughter — from all of them. It's a tremendous evening of little theater. But if you knew anything about Levine, you certainly saw that coming."
Michael C. Moore, Kitsap Sun (Washington State)
"Mark Harvey Levine's one-acts reveal a light touch, a wicked sense of humor and a knack for using paranormal events to cast new light on normal ones…These wacky, seemingly simple short pieces are hilarious on the surface, but full of subtler nuances."
Neal Weaver, LA Weekly
"It soon becomes apparent that this is intelligent comedy…The ten-minute shorts that make up this performance are clever, heavily ironic and utterly adorable."
Three Weeks (Edinburgh Fringe Festival)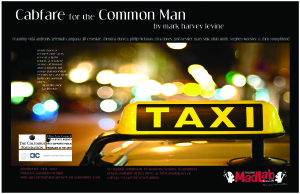 "The plays are fun, intelligent, warm, witty and funny. They tell stories. Like chance scenes glimpsed from the back of a speeding cab, each captures momentary insights of life and love, each sparkling like a little jewel…"
Nick Crews, Indianapolis Star
"hilarious and thought-provoking… You'd expect short plays to lean on witty one-liners to keep the audience in stitches, but Levine produces laughs by smartly throwing quirky, fully-drawn characters into ridiculous situations. In a fast-paced, YouTube clip-driven world, seven insightful and funny plays all under 15 minutes sounds like the perfect night out.."
Dwayne Steward, Metromix (Columbus, OH)
"Cabfare is a great ride… The seven shorts that make up this evening make it easy to understand Levine's worldwide appeal. Don't miss Cabfare for the Common Man."
Sean Reid, TheatreVault.com (Columbus, OH)
"They are delightful, sweet, clever, imaginative, tender, surprising, human, very funny and well constructed…he has found an amazing array of improbable topics and treated them all with a light touch and a wry eye."
Martha Keravuori and Chuck Galle, Boom! Magazine (North Carolina)
"Smartly written…one fun ride"
Lisa Gauthier, Nuvo (Indianapolis)
Mark Harvey Levine's "Cabfare for the Common Man" is a refreshingly charming and hilarious series of one-acts about relationships and the power of love.
John Belden, Daily Reporter (Indianapolis)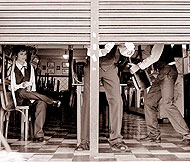 "Aperitivos" — An Evening of Plays
---
"Uma das melhores peças da temporada" ("One of the best plays of the season")
Rogerio Waldrigues Galindo, Gazeta do Povo (Brazil)
"Uma inteligente lição de sobrevivência afetiva neste mundo moderno " ("An intelligent lesson of affecting survival in this modern world")
Afonso Gentil, Aplauso Brasil (Brazil)
Individual Plays
---
Note: These plays have mostly been produced in evenings which included works by other authors.
"Scripted" is…a single whoppingly fantastic idea for a one-act play"
Alan R. Hall, Classical Voice of North Carolina
"Scripted…is a charming romantic comedy"
Jack Zink, Ft. Lauderdale Sun-Sentinal
"The continually clever Mark Harvey Levine has created another wonderfully entertaining short play…"
Nalea J. Ko, Reviewplays.com
"…Highlights include Scripted…a stylish comedy romp"
Ronald Mangravite, Miami New Times
"While it could hardly be intentional, the better works seem to have been placed in Program A…. Program A kicks off well with Mark Harvey Levine's Scripted, a tongue-in-cheek look at free will vs. predestination"
Hap Erstein, Palm Beach Post
"Mark Harvey Levine's devastating, sublimely imagined seize-the-day sonata ideal for a post Sept. 11 world."
Hedy Weiss, Chicago Sun-Times
"a smart piece of writing cleanly delivered"
Rebecca Gibson, Fringe Report, London, England
"both sad and achingly beautiful"
The New Current, Edinburgh Fringe Festival
"transcends its genre—the quirky play in which math and science are used to explain the lives of ordinary people—to cut to the marrow of slacker existence."
Christopher Piatt, Time Out Chicago

"fifteen minutes of sparkling repertee"
Nick Crews, Indianapolis Star
"…my favorite was The Rental, …It's a clever, heartfelt look at the travails of singleness in America."
Scott Sandlin, OC Weekly (Orange County, CA)
"…both acts start strongly…From the first [play], Mark Harvey Levine's The Rental, actors Barb Ross and Michael Taylor Stewart set the bar high."
John Keenan, Omaha World Herald
"In 10 minutes, Mark Harvey Levine takes his characters through a series of emotional ups-and-downs but it works, and the audience is so fired up by such effortless exchanges that they can't wait to see the second piece…"
Julien R. Fielding, PerformanceOmaha.com
"Bernie Van De Yacht scores the biggest laughs of the night as a "temporary" boyfriend to McKerrin Kelly's professional woman in Mark Levine's The Rental"
Sandra Ross, LA Weekly
"funny and touching"
Roy Sorrels, CultureVulture.net
"a lovely little piece of sleight-of-mouth that would be at home in a David Ives collection…a little gem"
Joshua Tanzer, OffOffOff.com (New York)
"Riotously comical is Mark Levine's Surprise… A nice twist ending and especially enjoyable bitterness on the part of [actress Carolyn] Hennesy make this a humorous high point for the evening."
Brad Shreiber, Backstage West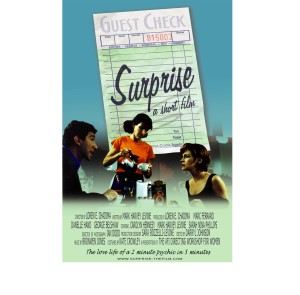 "Featuring some wonderfully timed sight gags, snappy dialogue, and a cast that works seamlessly together, Surprise is delightful"
Byrne Harrison, StageBuzz (New York)
"The funniest one was Surprise…"
Jose Ruiz, Entertainment Today
"Charming and funny"
Tracey Sanford, Palm Springs (CA) Desert Sun
"The best of the pieces, Mark Harvey Levine's Surprise,"…
Carl Hoover, Waco Tribune-Herald (TX)
"In the most inspired one, Cabfare for the Common Man,…"
Miriam Jacobson, LA Weekly
"Brilliant"
Jose Ruiz, Reviewplays.com
"…the writing is crisp, the action is fast-paced… this rollicking, uplifting comedy is the perfect way to end the evening"
Shirle Gottlieb, Long Beach Press-Telegram
"My vote for the best piece of the night, though, would be for "Passed Hordes," an ingenious little charmer by noted Los Angeles one-act playwright Mark Harvey Levine that takes all of about seven minutes to dress down two nerdy wallflowers and turn them into the life of the party. "
Michael C. Moore, The Sun (Bremerton, Washington)
"Passed Hordes by Mark Harvey Levine is souffle for dessert….Bon Appetit"
Polly Warfield, Backstage West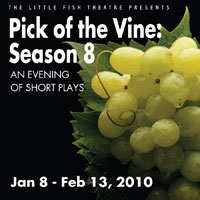 "…both touching and side-splittingly funny. A must-see."
Geoffrey Long, Inkblots Magazine
" Vital [Theatre] ended the show on a warm and fuzzy note with Superhero. Playwright Mark Harvey Levine was apparently rocketed to earth from the planet Krypton, since his mastery of comic-book dialogue is so complete."
Charles Battersby, Off-Off Broadway Review
"Levine moves beyond ample laughs to make a poignant point about the everyday courage to be yourself."
Michael Grossberg, Columbus Dispatch
"A touching riff on personal fear"
Wenzel Jones, Backstage West
"Mark Harvey Levine has written the most surprising and delightful of all these pieces, one in which the Biblical parable of the Prodigal Son is told from a 'backstage' perspective"
Joanne Butcher, Miami.com
"..the completely silly The Prodigal Cow…can be read as a rumination on fate or a Saturday morning cartoon. Either way, it leaves you happily rolling your eyes."
Colin Dabkowski, Buffalo News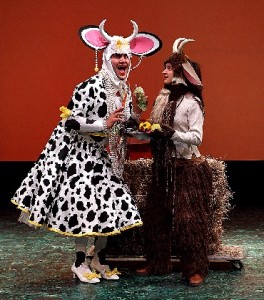 "Mention must be made of Mark Harvey Levine's The Prodigal Cow,…engaging and touching"
Wenzell Jones, Footlights.com
"A real delight. Totally unexpected, and utterly charming."
Malcolm Fordham, The Courier Herald (Dublin, GA)
"There's a touch of Summer and Smoke in this Kiss"
Jonathan Kruk, Putnam County News and Recorder (NY)
"wise and funny…breezy and enjoyable"
Ted Hadley, Buffalo News
"Just as sweet and original is Shades… a neatly impressionistic take on human relationships."
Martin Denton, NYTheatre.com
"Levine's "A Case Of Anxiety"… will have you rolling in the aisles…
such a hoot it sends the audience out of control."
Shirle Gottlieb, Long Beach Press-Telegram
"The most impressive story is "The Remote." Aside from being very funny, the verbal gymnastics as [actors] Reimen and Shelton channel the television take incredible talent
and concentration."
John Belden, Daily Reporter (Indianapolis)
"A blast for the audience"
Stacy Davies, OC Weekly (Los Angeles)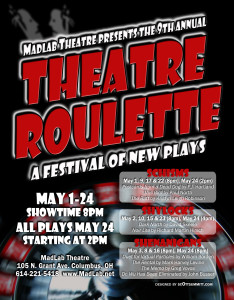 "another superb Levine comedy"
Kathleen Kirby, Flint Journal
Shakespeare Lives!
"Comically excellent…fast-paced and improbably silly."
Kathleen Kirby, Flint Journal
A Walk In The Ocean
"These tender moments are well observed…melancholy snapshots of nice guys as their women move on"
Nelson Pressley, The Washington Post
"My favorite was "A Walk in the Ocean."…It was beautifully written — effortlessly so."
Joan Steinmetz, Kitsap Sun (Washington State)
"a profound look at potential soul mates as they wade deeper into the water"
Bonnie Priever, Tolucan Times (Los Angeles, CA)
Up On The Roof
"Mark Harvey Levine's writing is touching and authentic
in how it captures love's fragility"
Mary Mallory, Tolucan Times (Los Angeles)
"a swift and near-perfect little duet"
Alan R. Hall, Classical Voice of North Carolina
In The Jar
"For laugh-out-loud comedy, it's hard to beat the script by Mark Harvey Levine…the audience goes completely wild."
Shirle Gottlieb, Long Beach Press-Telegram
School Of Thought
"This year the nuggets included a very funny piece called School Of Thought by Mark Harvey Levine…"
Nick Ahad, Yorkshire Post (ENGLAND)
The Folks
"…an uproarious look at new relationships and the impact families can have on them."
Mary DeBerry, Ahtspot.com (New England)
Charming
"This piece is written smartly and wittily…Interesting take on what could have been clichéd."
Bill Rodriguez, The Providence Phoenix (RI)
Uncle Charle Sings
"toyed skillfully with a range of emotions common around the holidays "
Jay Harvey, Indianapolis Star
"simply divine"
Tom Alvarez, Indianapolis Performing Arts Examiner
"lovely"
Lou Harry, Indiana Business Journal
A Fit Of Pique
"A Fit Of Pique is the evening's closer, and far and away the best among this year's nine selections… shocking (in a good way) and hysterically funny.
Michael C. Moore, Kitsap Sun (Washington State)
A Very Special Hanukkah Special
"A gem"
Jack Helbig, Chicago Reader
The Order
"genuinely clever"
Mark Cofta, Philadelphia City Paper
Misfortune
"One expects a short comedy as enjoyable as this from Levine, who has found success with short comedies…Fortunately, Levine delivers again."
Michael Grossberg, Columbus Dispatch
"'Misfortune,' written Mark Harvey Levine and directed by Chris Chiron, is by far the best that 10 by 10 in the Triangle has to offer. It just gets funnier and funnier…"
Robert W. McDowell, Triangle Arts & Entertainment (NC)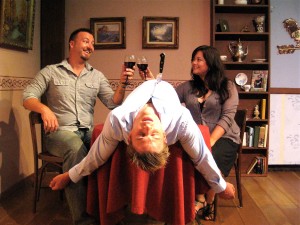 A Little Fresh Air
"The audience will vicariously laugh, cry and breathe in the fresh, edgy material."
Bonnie Priever, Tolucan Times (Los Angeles, CA)
Ten Picnics
"Ten Picnics" by Mark Harvey Levine is a tender homage to the family and the circle of life that drives it…This is an intelligent script, gracefully handled."
John Quinn, EncoreMichigan.com
Workin' On The Railroad
"Mark Harvey Levine's hilarious, show-ending and show-stopping 'Workin' on the Railroad', which deserves to be experienced without prior explanation…"
Margaret Quamme, Columbus, Dispatch
"a charming exercise in wordplay…It shouldn't work, but it does…Clearly an audience favorite…"
Terry Shea, Motif Magazine
Face To Facebook
"As expected, CSTN saved the work of their staunchest ally, L.A.'s Mark Harvey Levine, for the clean-up spot, and it was a best-for-last situation. Levine's "Face to Facebook" was a clever skewering of the social-medial culture…"
Michael C. Moore, Kitsap Sun (Washington State)
Les Miserabelves
"'Les Miserabelves' a parody of the famous musical which combines Victor Hugo's story with the classic Rudolph tale is particularly brilliant."
Melissa Hall, Stage Write Indy (Indianapolis, IN)
"a mind-boggling mash-up"
Hope Baugh, Nuvo (Indianapolis, IN)
"intricately clever"
Jay Harvey, Jay Harvey Upstage (Indianapolis, IN)